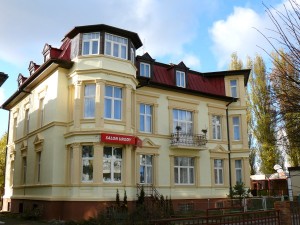 The Victoria holiday house is a real gem among the leisure facilities which FWP Międzyzdroje has. The property has historic roots and its original style refers to the other post-war buildings, which used to be famous in Międzyzdroje in the past. In 2013 the building was thoroughly modernized. It gave a fabulous look and excellent style to each room. Victoria, like our other holiday houses has an amazing location and is situated just in the front of boardwalk. The entrance to the beach from the property is just about 50 meters. Another advantage of Victoria is an easy access to many restaurants and seaside cafes which serve delicious seafood and other relishes.
We offer to our guests 41 beds in single, double and three-bedrooms and 2 beautiful apartments. The room windows give you the opportunity to enjoy the stunning sea views and sunsets. Each room has access to digital TV, private bathroom with shower and wireless internet. The standard in every room islarge and spacious bed giving you relaxation and good rest and also beach amenities such as windbreaks and deckchairs.
Guests staying at Victoria have access to car parking which is shared with Polonia Holiday House.
Rooms available in Victoria::
6 single rooms,
8 double rooms,
5 triple rooms,
2 double apartments,
Other facilities:
A short walk to the Baltic Sea (approx. 50 m),
TV in every room,
Free WiFi,
Access to car park,
Deckchairs and windbreaks
Photo gallery DW Victoria:
ContaCt:
DW Victoria
72-500 Międzyzdroje
ul. Promenada Gwiazd 18
Central reception
ul. Promenada Gwiazd 4
72-500 Międzyzdroje
Tel. 91 32 80 567
Fax.91 32 20 044
e-mail: miedzyzdroje@foruminvest.pl
The DW Victoria hotel day starts at. 16:00 and ends at 12:00
Map and directions: